1947 Schwinn

Ladies Super Cruiser
My project turned out to be a challenge mainly to myself to build the ultimate bike for my wife.
From humble beginnings, a bike found at an antique store a year ago, this bike became a labor of love that I poured a great deal of time into. I knew I could create something cool out of it, and just had to figure out what that was going to be.
The detail work that went into it was more than anything I've undertaken before, and I learned a lot and solved quite a few problems along the way. I certainly could have made this bike a lot simpler and saved myself a lot of work, but I was determined to include a 5-speed, drum-brake wheel set on this bike. Many many hours were spent getting everything to work correctly.
The bike went for its inaugural ride today, downtown to our St. Patrick's Day parade. It probably could have been in the parade, for all the attention it got. People really enjoyed seeing it. My wife enjoyed riding it, and showing it off to people that stopped to check it out.
It's been a really fun couple months putting this one together. Hope everyone enjoys it as much as we have!
BEFORE: At the antique store, Stafford Springs, CT, March 2009: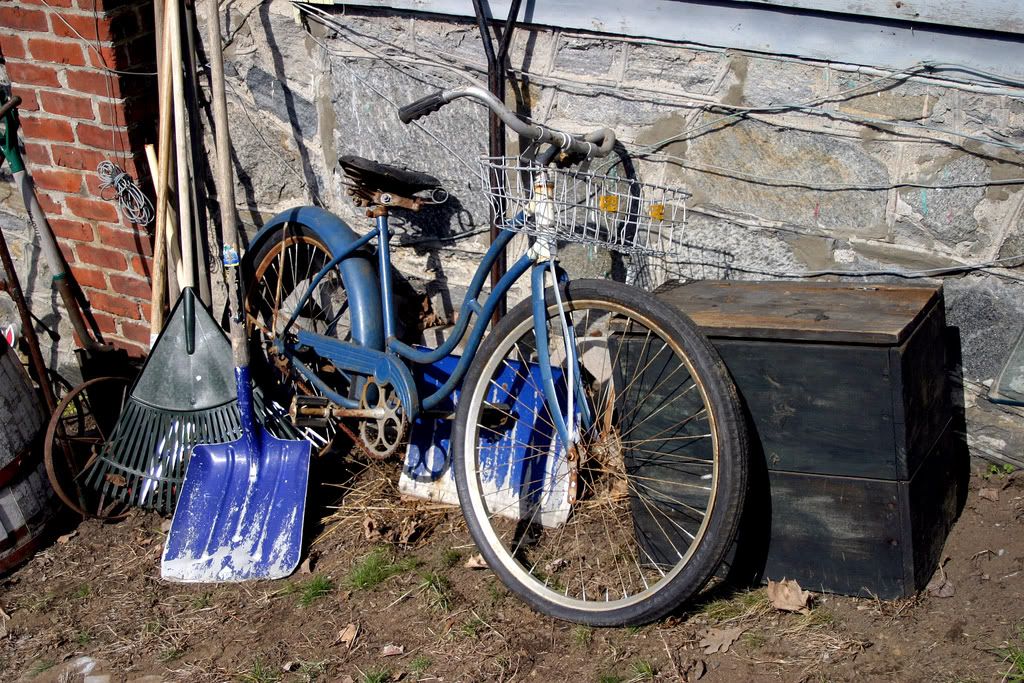 St. Patricks Day, 2010: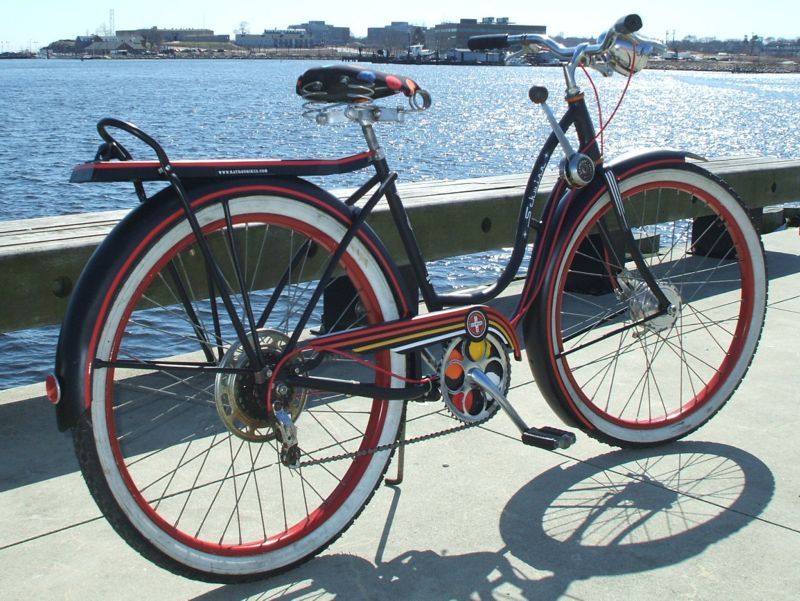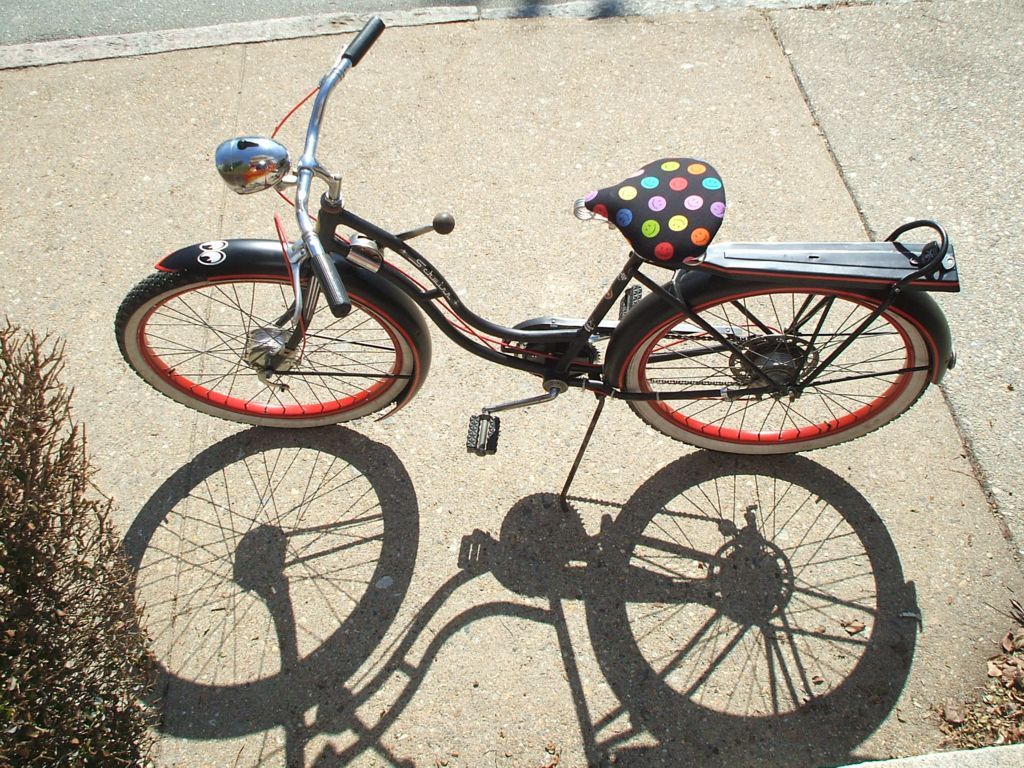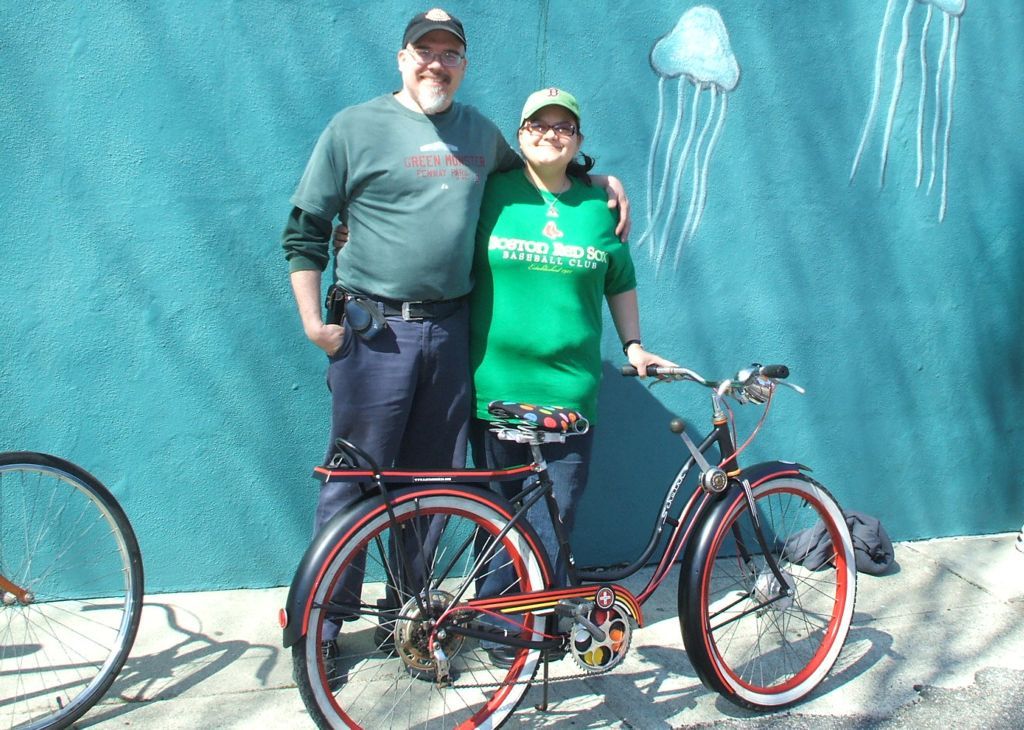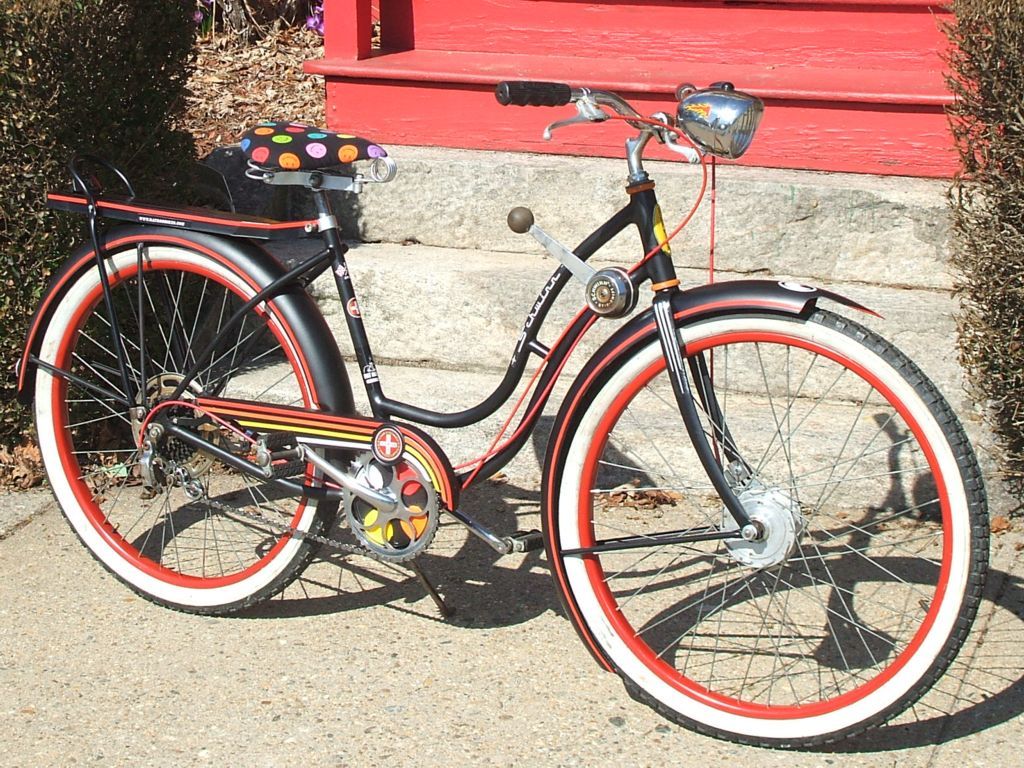 The build sheet:
1947 Schwinn frame, fork, seat, seat post, rear fender, kickstand, feather chainguard
Front fender: 1995 Phantom repro rear fender, modified.
Stem: 1970's Schwinn
Bars: 1980's Schwinn cruiser
Brake levers: 1970's Schwinn Collegiate
Shifter: 1968 Schwinn Stingray
Crank& Sprocket: 1972 Schwinn Collegiate
Rear rack: JC Higgins ladies middleweight
Rack stays: Schwinn Stingray, modified
Headbadge: 1970s Schwinn repainted and "antiqued"
Grips: 1950's Schwinn
Headlight: 1970's Cycle Products, found with flames on it!
Rear reflector: 1969 Collegiate 2"
Pedals: 1966 large diamond block pedals
Cables: Red, NOS
Wheels: Columbia (?) Tandem 5-spd heavy duty drum brake hubs
Tires: WW 26x2.125 knobby style
Pinstripes: Commercial automotive pinstripe, some painted before application
Decals: Schwinn white arched frame logos, Phantom style seatpost logo and chainguard quality circle, 5-speed crossed-flag logo, early style fork triple stripes, all from Memory Lane Classics. Rat Rod Bikes logos on frame and rack. Moon Eyes on front fender.
Thanks for checking out my project and for all the kind comments!
Rat Rod Bikes rules!
--Rob