I've been watching the builds in fascination as a new member and a recent CL parts bike has provided a donor frame so I'm throwing my hat in the ring
. I spent some time brainstorming and have my theme and beginning progress to document. I will be building a P-40 flying tiger WWII themed cruiser and I've got some really neat ideas from fake bombs and exhaust to a working propeller and of course the iconic sharklike Mouth and Eye but let's get into some pics shall we?
The donor bike: an aluminum Monterey Bay 3-Speed badged by Next. I bought this solely to steal the Nexus 3spd wheelset for my DR. It rode nice as it was - the aluminum frame is light and responsive plus nearly rust proof (so important for me living on a boat in the pacific) but it just didn't have that classic beach cruiser look I love so much. Now that this build has consumed my thoughts for a few days I may end up wanting to make it my primary ride by the end, we'll see.
Here she is just as I got her: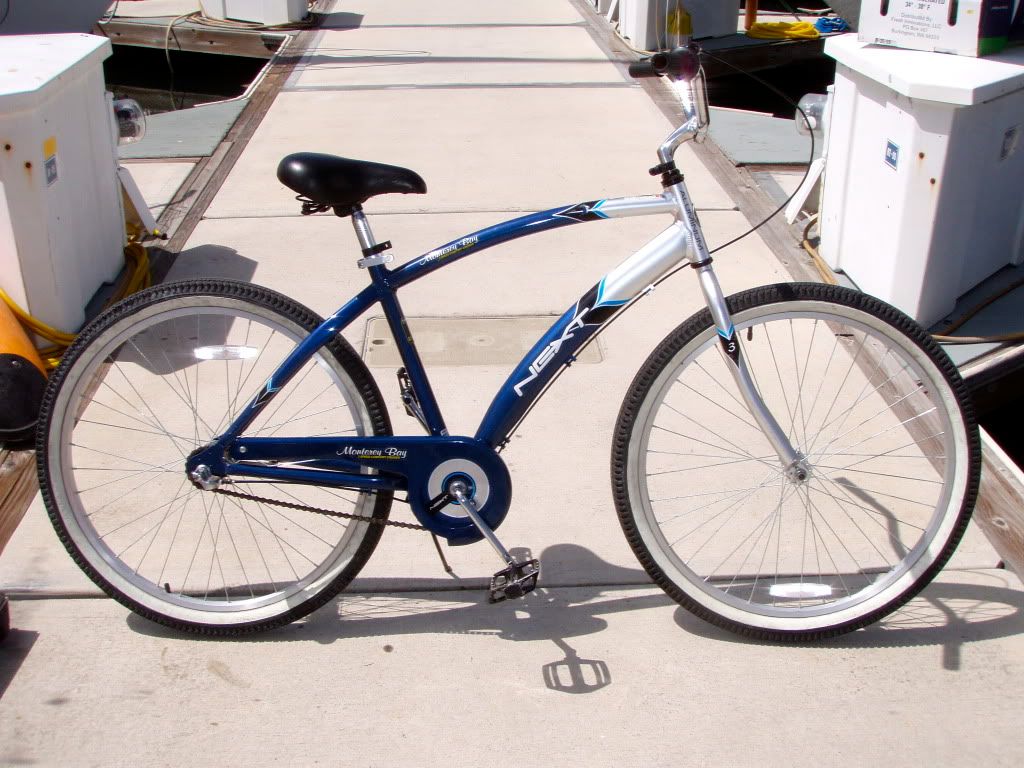 Now the fun part. I realized if I fabricated a custom tank it would give it the classic cruiser look I love and you wouldn't be able to tell that it's missing the pair of bars that normally sweep from the seatpost to the bottom of the headset. The idea of a custom tank got my imagination running wild. I thought, how cool would a tank look with a sharkey mouth and eye like you see on those wwII planes? something like this: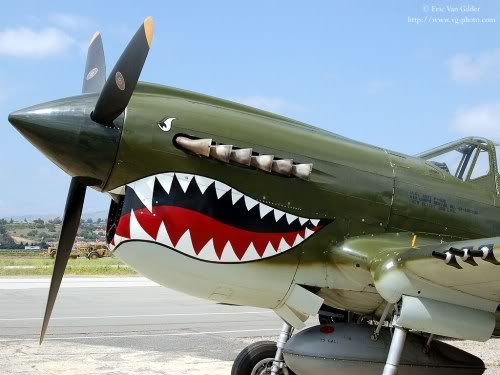 I don't want a straight up copy of that look, I want rat rod meets P-40. I decided Camo green won't be flashy enough for me so I'm going to go white on the frame with stark red and black design elements complemented by silver and Chrome. I drew up a prototype idea and came up with this:
The drawing is incomplete but I stinkin' love the way the tank makes it look and it was enough to point me in the right direction. I think this just screams for a chrome springer fork but alas I don't have one nor much $ so that may not happen (if you've got a deal or donation by all means let me know
)
Red Rims, white spokes, whitewall tires, White frame, mouth, and eye are all decided.
Undecided on Sprocket, tank, and chainguard color/theme.
Ideas for your consideration - A white sprocket with black star circle like the WWII planes had, possibly a silver tank and chainguard.
Possibly a white tank and chainguard with Red accents on the chainguard (pinstriping, RatRodBikes.com sticker, etc)
3 Ideas that didn't make it into the drawing:
1 - I penciled it in but a faux bomb hanging under the frame would look pretty cool IMO
2 - I'm so stoked about this: a red nosecone with a functioning black propeller mounted where the headbadge would normally be (that should be a fun project)
3 - A faux exhaust similar to the P40 pictured either on the tank or the top frame bar
I am so excited to do this build! I'm on paternity leave for 3 more weeks after the birth of my first son (Ryder Matthew Henry) which gives me some free time and I think I have the parts I need so it's just a matter of fabrication and paint. Let me know what you think!