My cousin gave me these two bikes and told me to fix them and sell them for $50 or $60 each.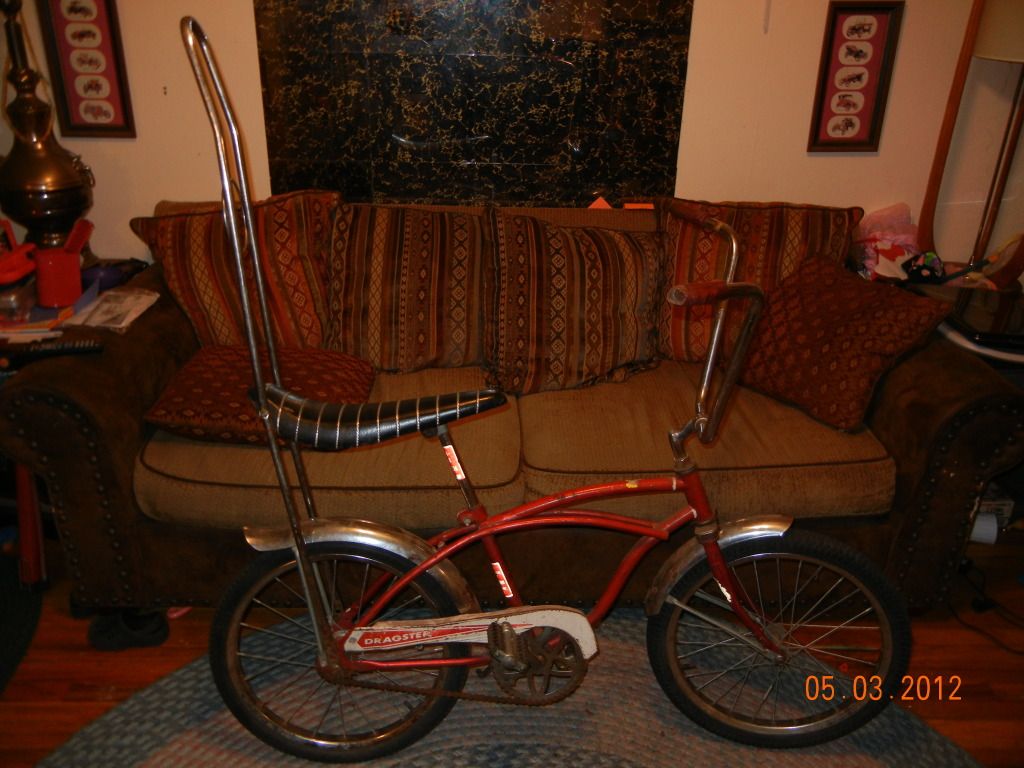 The Huffy Dragster was a fun little bike, and after a good cleaning and greasing, it was ready to ride. The tires held air, and the chain was ok. After a few rides the little sucker just wore me out. Had I known it wasnt the bike but me in the early stages of a groin hernia I would have never let it go. I put it on craigs for best offer and sold it the next day for $75. I sent $50 to my cousin and used the $25 to fix up his next bike. I saw it about a week ago at a bike sale in the same shape as I sold it for $150.
This bikes banana seat looked like it got in a knife fight with a pit bull. It had bumpy white cracked tires that just fell apart when I stared to put them on the wheels. So I found some used tires for $10, and a black seat I got from a guy for $5. When I tried to put it together the front wheel would not fit. $5 for another wheel. When I was done I didnt like the look untill I swaped the white grips for black ones. I had a spare chain so she was good to go. It never sold, so I have a little green girls bke.
I took off the seat, and wheels and sold the rest for $20.00. I sold the wheels to the same guy for $10.00. Now I need to pay my cousin stleast that much. This little bike was a bane bike shed.