I really should take some better shots, but:
Mine's a late-era Chicago Schwinn cantilever with the factory tubular forks, and all the brackets for mounting fenders/racks left intact. Paint is Rust-O-Leum Antique Ivory and Blue Hammertone finish with a few touches of Aged Bronze.
Wheels are old Sun hard-anno hoops drilled out to accept the oversized nipples required by .120" Ti spokes. Front hub is ACS and the rear is an early '80s Shimano MX - both are large-flange.
Seat is a Schwinn roadie/BMX unit, and one-piece cro-mo cranks sport a bronze-anodized alloy 34T chainwheel and SR Beartrap pedals. That stem is an early MTB ACS unit, while the bars are 1979 Honda. A Miller High Life bottle opener graces the headtube, the Chicago screws used to mount it having the same center-spacing as the Schwinn headbadge.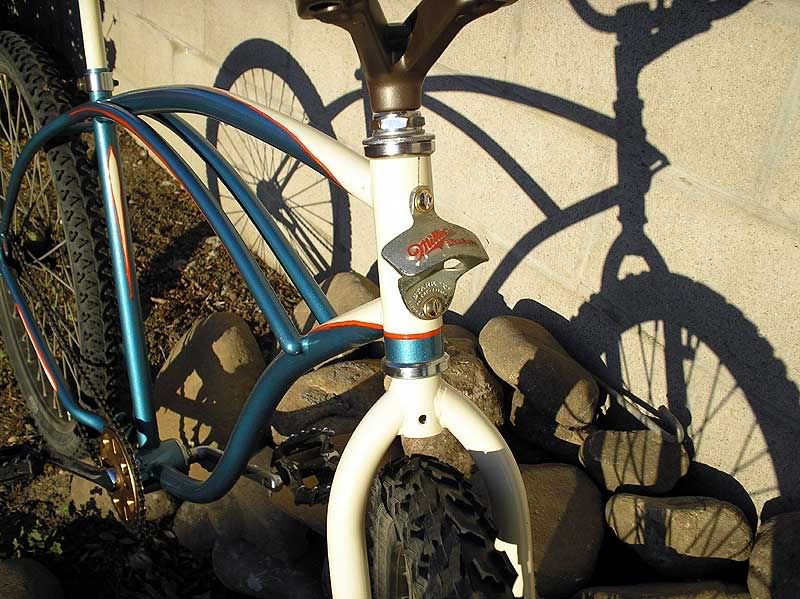 Not pictured is the new aluminum seatpost, made from 1/4" wall 1" tubing that I turned down on the ends to fit the 13/16" size for the frame and the 7/8" dia. needed for the seat clamp.