johnp.smith wrote:I cant stand to see the fixie conversions either, rip off the brakes and all the gears and throw them away. Then when their knees hurt, they cant ride it any more.

Just thought you might enjoy this situation that happened to me recently and in no way am I making fun of or saying anything bad about gays and lesbians. But I recently came out of a restaraunt and there were some fixie kids out front, one was on a beautiful Gitane with the nicest lugs and paintwork I had ever seen. I asked the kid how could he make a fixie out of such a nice bike. His replay was, because it looked gay. His friend on the other hand had one of the fixies with one color on the frame, each wheel was a different color from that and the crankset and chain were also different. So I replied to the young kid and said I think he ruined a beatiful piece of bicycle history, and as far as gay goes, this bike here is gay, it contains every color of the freedom flag. They all looked at each other in shock thinking about that one.

I wish these kids were at least smart enough to save the drivetrains they are removing but they just throw them away. The vintage road bike enthusiasts are going to have a difficult time restoring the bikes they find in the years to come because of a fad and thats really a shame.

Here in Denver CO, there are big cruiser clubs and all the New Belgium stuff going on here thus making the English roadster 3 speed bikes disposable. I am the only one in all the bike circles collecting English bikes, not to fix and resell but to preserve them all from the trash. Some are in good shape, some are not and will be used for parts. The English builders really put a lot of labor, passion, and commitment into their work, I love every bike I find.
It's been a long time since I had to agree to such a degree.
I built one fixie in my life. And I did it simply on the grounds that what I started with was rubbish to begin with and making it into a fixie would give me some much needed doh.
This is what I started with, a Falcon Panther:
Minus the wheels that is, I only stuck them on for the photo. The frame doesn't have any braze-ons, that gave me the fixie idea.
This is what I made out of it: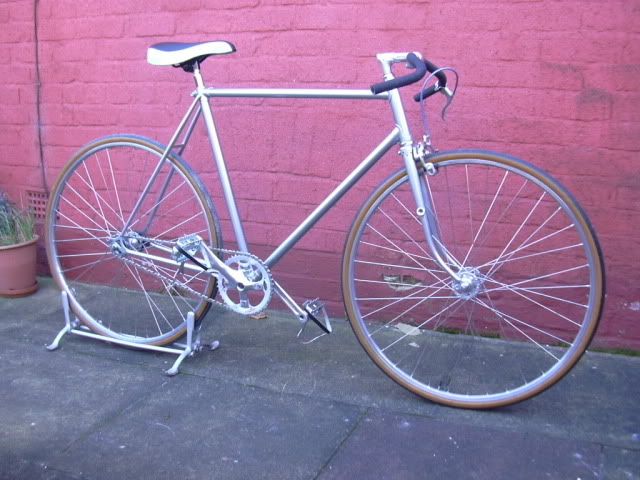 So I didn't ruin anything, since there was nothing there to ruin from the onset. OK, that's just an excuse. I did it, so I'm guilty as charged and meanwhile I regret it.
I rode that thing once down the street and back and couldn't believe what rubbish it is to ride and why so many people make such a fuzz about those fixies. I think they think they are hip and different but in reality they just follow yet another trend. The only thing I hold in their favour is that they stoically put themselves through an atrocious ordeal they all will regret later in life, and we all will have to pay for their treatment and early retirement (read Lincoln Town Car with a wheelchair on the number plate here).
Let alone all the nice bikes that get irreversibly ruined in the process.
Entirely btw., I like the freedom colours bit...