This is my first build-off. The original plan was to take a Bratz bike I obtained in a swap for two truck tires and repaint it so it actually looked like a boys bike. I figured I would paint the bike, make a few changes and be done early. After the painting was done, however, I found I had more time and things got out of hand quickly. So more things happened. Anyway, the paint is Rustoleum spraycan yellow, black, white, and clear.
Most of the close up pictures shown here are taken where I work because the lighting is good and the gray floor makes a nice background. Almost all of the other pictures, which show trains, wall paintings, train stations, antique shops, or big cows were taken in Orrville, Ohio. It is a town about 1/2 hour from me that has a bike shop I like, so I took the bike to show the owner what I was up to and then rode around the town for about an hour taking pictures. When you ride around Orrville, Ohio for about an hour, you have pretty much covered the entire town.
Here is a link to the build thread (on the page where I made a taxi fender that had to be repainted):
http://www.ratrodbikes.com/forum/viewtopic.php?f=67&t=56351&st=0&sk=t&sd=a&start=120
Anyway, here is the bike: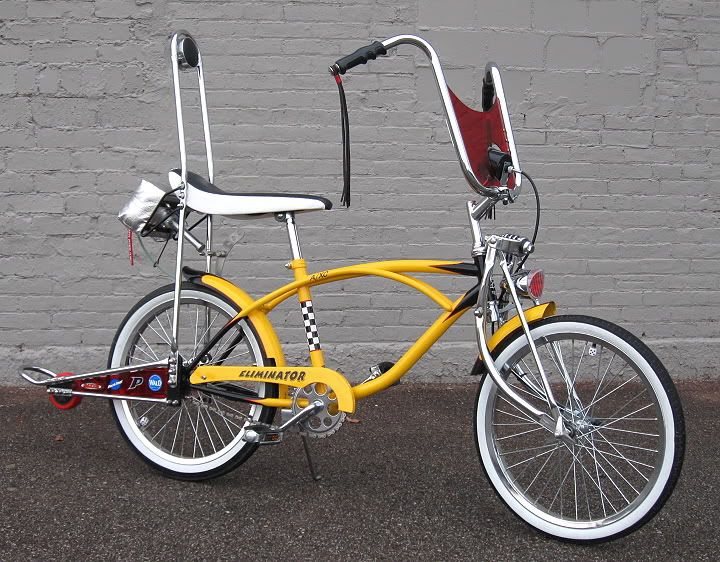 I ended up with a working drag chute (also know as the "Jake Brake." Thanks, Jake, for the inspiration!):
Here is the before picture. The bike was in pretty decent shape except for the normal scratches and a light coast of rust over all the chrome.