Hey everybody, my name is dR3W, just came across this site via JoeyMac's AMAZING Spaceliner Flickr album!!!!! And, I'm blown away by all the enthusiasm and all the genius of RE-invention on this site! Cheers to all!! I don't have near the collection most of you guys seem to have but... Test driving through Sierra Madre 5 summers ago in my '67 Toyota Corona , I happened upon a beautiful site, rusty as heck, but beautiful none the less. It was an all chrome beach cruiser withe a giant sign, "FREE"! With the beauty of the net, i think I have figured out what it is. Murray!?!?!? Sears Spaceliner!?!?!? First, there is no company name although the serial is stamped at the rear left side, 502469010792850 (just behind where the rear wheel nests) and it has a RB 2 Bendix Single red stripe rear hub which led me to that Flickr account and then to this wonderful world.
Here she is after several hours with steel wool, brass brush, and Brasso!
On it's second ride after re-chaining it...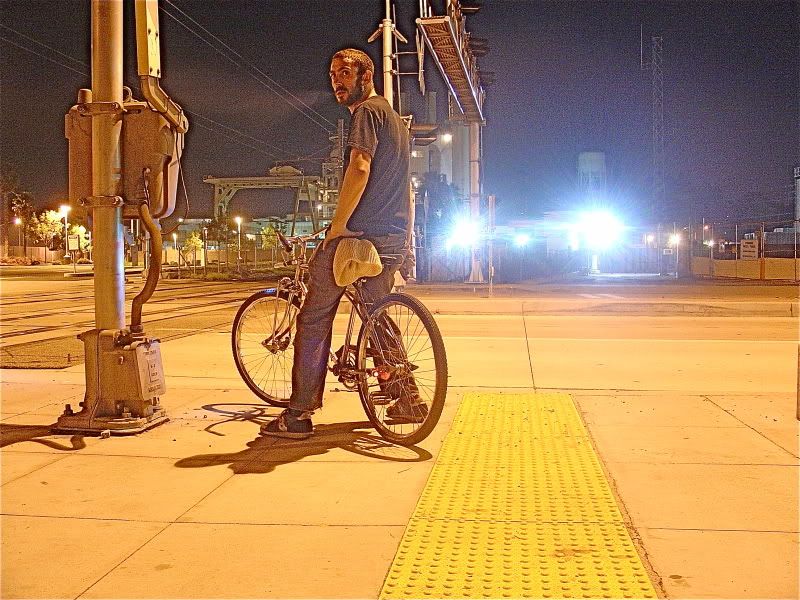 Here are a couple of clearer pics! I "think" it's a Murray/Sears Spaceliner circa '64, although the chain guard throws me off a bit...
after installing some cheapy plastic fenders (forgive me, ha!), and a LED flashlight/headlight mounted using a vintage mic stand, a closed end wrench and the rest of it from a steel piece of vacuum pipe bracket, and a rear ' driver's side tail light using another LED flashlight and a good ol' red sharpie and a second flashlight lens, with more red sharpie for an extra deep red effect! I'll post more pic soon and i have lots of inquiry about doing this thing up JUS' RIGHT!!!!
Cheers again, dR3W