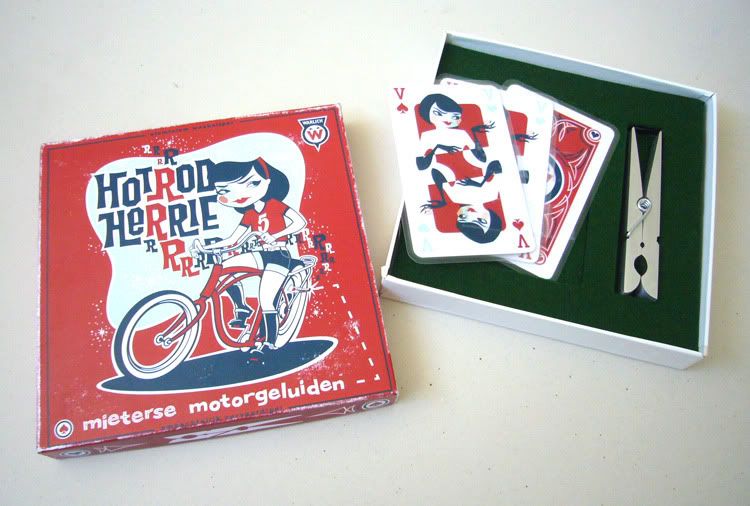 Hey guys 'n galls.
My name is Jeffrey and today I mannaged to find some time to select a few pics and write an intro for my very first post on Ratrodbikes. If you find my writing a bit funny, it's because of me being from Dutch origin. Yes, I live in the Netherlands were bikes rule :-) Everybody's got one and (almost) everybody uses it (almost) daily. Rain or shine. I am an illustrator/graphicdesigner/artist by trade, but on saturday I'm the cleaner at the citybus-depot, to compensate my extremely picky behaviour concerning choosing my artistic asignments. And, well... we can't draw hotrods and pin-ups everyday, can we?
What else is there to know about me...
In short, I like the visual american culture and music of the 40's 50's 60's, but I am open to so many styles and beautiful things. I play some guitar. I've just passed my mid-thirties last february, and yes ladies, I'm still single...
;-)
Oh yeah, the bikes...
My love for bicycles started early. My parents still have some footage of my very first bicycle-ride. (And fail, resulting in a bloody hole in my head.) It was a bright yellow girlies bike. One I would like to have in my possession soooo much... But it's the 'family-learn-to-ride-a-bicycle'-bike. My first bike was a small chopper. Light metallic blue. Not too different from some of the originals I see here. Don't remember the make but it read 'super deluxe' on the chainguard. After the chopper-craze there was this BMX-thing. I got an MX 400 ('400' as in 400 kilogram...) After that I got a 'real' competition BMX. Lightweight and chromed with red anodized alluminium parts. It read 'REDLINE' but it wasn't one. I remember it being a Japanese competition bike before it's make-over. I loved that bike and used it for almost 20 years! Going to school meant getting a grown-up bike. 10+ And most of em got stolen. It wasn't until the early nineties that I noticed a (new) Schwinn and I was hooked. I started to discover classic bikes in movies like Back to the future. My interest in hotrods led me to buy every magazine about custom cars I could find. An issue of Brittain's 'Streetmachine' depicted a yellow cruiser by Moon-equipment. Complete with Moondiscs. Soooo cool. But it WAS the early nineties and the Electra-beachcruiser-thing had not hit over here. Yet.
Fast forward...
These are a few of my bikes that I'm currently 'working' on:
'Mine'... Well, sort of... The ATB en the Mix are my mom's. I've been using the ATB every saturday to get to my job. I'm currently busy giving it a make-over and it's starting to look really good. The 70's/80's Mix is a true barnfind. The stickers read 'Avanti Mix'. One day bought by my parents ,2nd hand, and literally never used by them. I've been cleaning the bike and it's a beauty allready! The cruiser is mine. It's a Sparta Bullet that I made into a mild custom a few years ago. I've made a fender, a chainguard and a lamppost (or lamp-bracket?) Yet I don't really know how to build bikes (welding), but I'm creative and have lots of imagination ;-) And as often, that is all you need.
I love this forum for being so relaxed, and open to almost every bicycle-style. From cheap (chinese)factory-stock to wild, highdollar fantasybikes. There are some very cool people around here and I'm looking forward to see more of their creative ideas, sollutions, and fabrications. As well as sharing mine.
*** LINKS ***
Check me and my art:
My Space
Check my bikes:
My Intro
My Cruiser
My Atb
My Billet Bullet

(RRBBO4)
My Cartboardtracker
Kustom Kulture in Europe posts:
Scrapers Indoor Nostalgia Show (Belgium)
Bottrop KustomKulture Show (Germany)
All American Day Car Show (Holland)
Bicycle-art by E R O S I E and B U T C H (Holland)
Cheers!