Just wanted to share some advise through a short story that may or may not resonate with some of the other dad's out there.
When I was 10 or 11, I wanted a tree fort. Really really bad. Unfortunately, my father worked long hours in the city and it was a long commute so pretty much only saw him on weekends (this didn't last forever). Most weekends and summertime, he and my mom were working on house projects of all kinds or we would do the obligatory family vacation. They were very industrious and ambitious.
Anyhow, dad never had time to help me with my tree fort so I took it upon myself to construt one in a giant white pine, the ones that drip sap of course.
After using up all the scrap plywood in the garage I foudn two nice pieces of heavy dark wood. They were 4'x 2' and almost 2 inches thick. It was a lot of work hauling those into the woods and up the big pine. Hammering nails into it was a real chore, bent a lot of them. Wow that was dense material.
Fast forward to Thanksgiving, and we were hosting which meant lots of relatives and so forth. It also meant time to fit the center leaves into the formal antique cherry dining room table.
.
So I have learned my lesson and although we do not own any fancy furniture that might be repurposed into a tree fort I'm not taking any chances
. Besides this is fun. I've been working on this for my three boys. All recycled or free materials.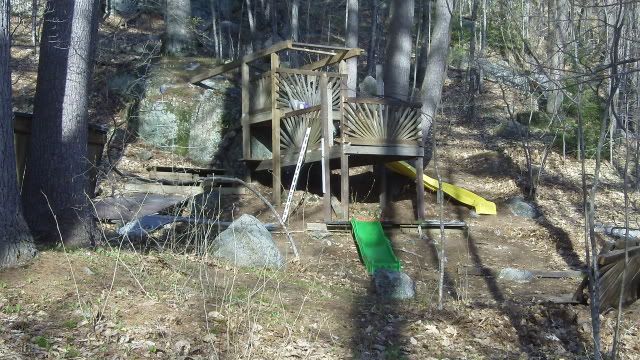 That's a 70' zipline.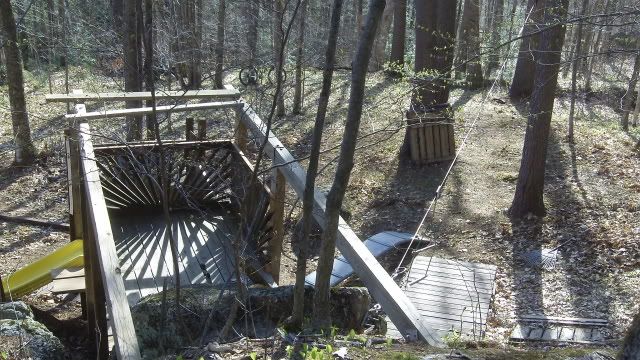 Still need to install rafters on the second story wich will run all the way back to the ledge. And install the fireman's pole from upstairs to down. I think the big slide will come off the left side in the railing gap by my level. I have a lead on a used 10' wavy slide and merry go round too. And I'm picking up another tower for the far end of the zip line this week. The tall 4x4's will get trimmed and capped. I have a set of military range finding binoculars that look like they came off a tank which will be mounted upstairs on a flexible mount of some kind, maybe a 3/8" universal socket fitting will work. beyond that i kind of figure it out as go.