So I haven't done much in the last week or so....
Kids had a Bowling Tournament down in Tucson last weekend so I was gone, and the past week was crazy for a number of reasons....
Really I had a lose of Gumption... ( Zen and the Art of Motorcycle Maintenance, My Favorite book of all time ) I was as stuck as those pedals on the chrome Spaceliner....
Yesterday I decided it was time to get back on the horse...
So against the advice of others I took an idea from yoothgeye and ground down a set of 9/16 s and decided to give that a try..... It Worked !!! Then it didn't.... The left side was NOT coming off so I finally decided to take my angle grinder and CUT it off.... I had reservations about cutting perfectly good crank arms, but then I thought what the heck I'm cutting a perfectly good chrome frame for this Build Off....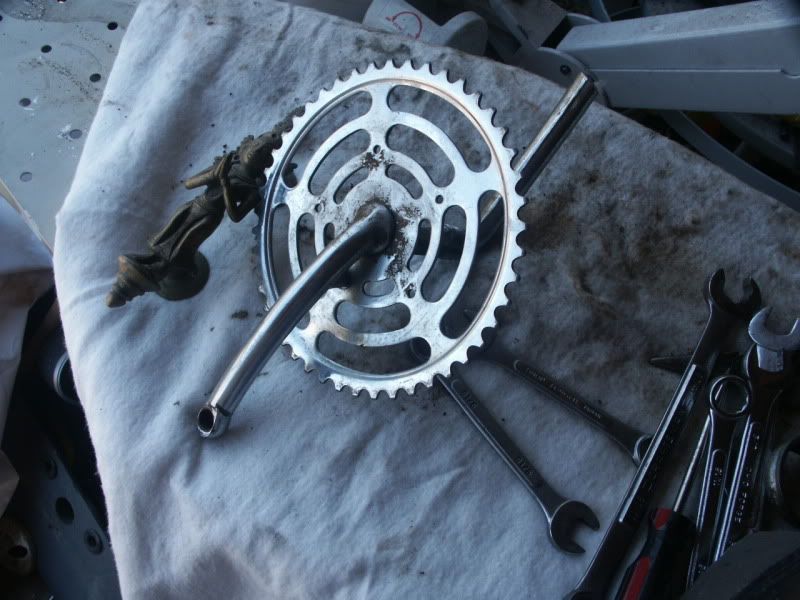 Once that was done I finished tearing down both frames to bare minimum, and took pictures to try and figure where all would meet in the end...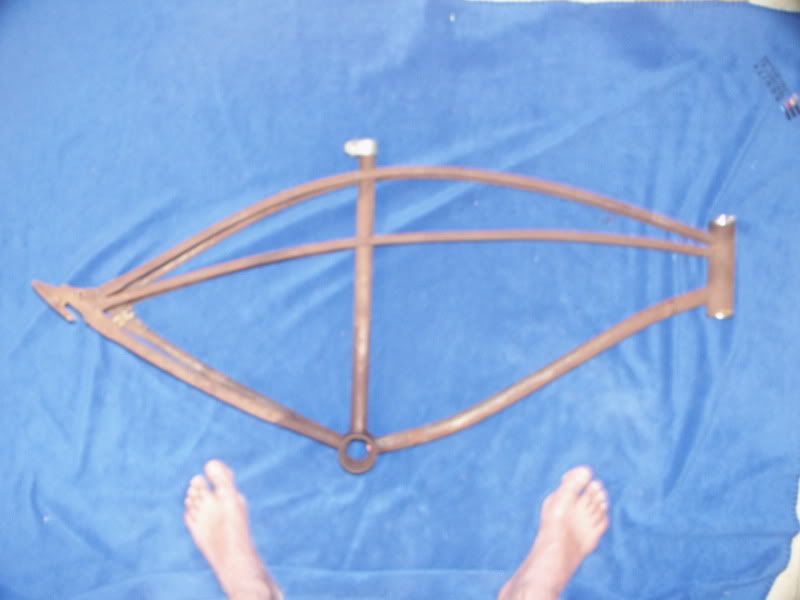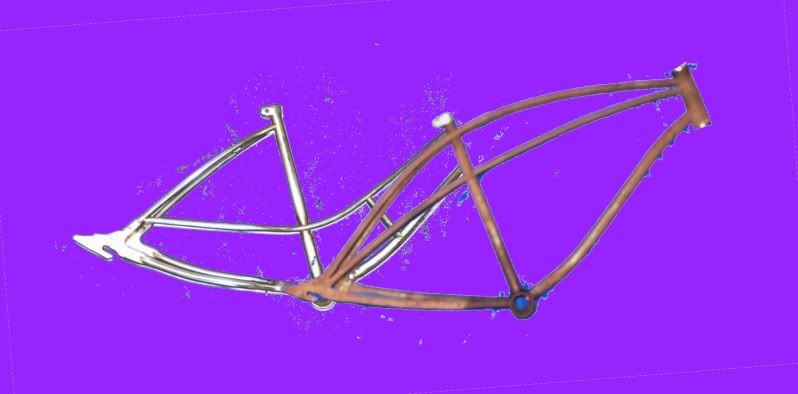 This morning,with the kids off to school, I decided it was time to move on....
First hurdle was joining the ladies frame to the rusty mens frame... a couple of weeks back I was at a Bike Estate Sale and picked this up... I think it is a conversion bottom bracket and I thought it would fit....
After finding the correct tiny little hex to unscrew and finagling it fit perfectly in the bottom bracket... I slightly widened the dropouts on the mens frame and screwed it all together....
I was on a roll and decided to put the font forks and some wheels on it and do a mock-up....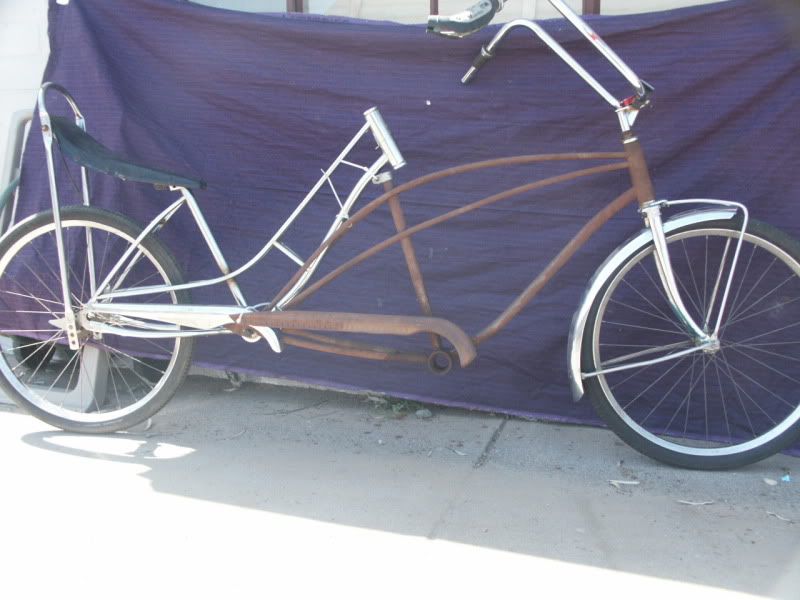 I want a LONG banana seat and have thought about combining a little girls bike banana seat with the Fat Manta Ray ( New Version... see my Fresh Finds ) banana seat I have.... mock-up...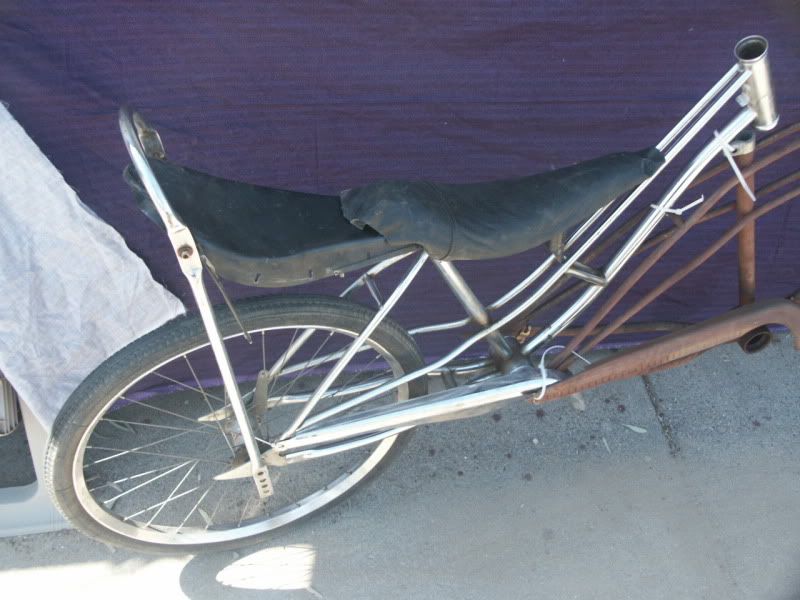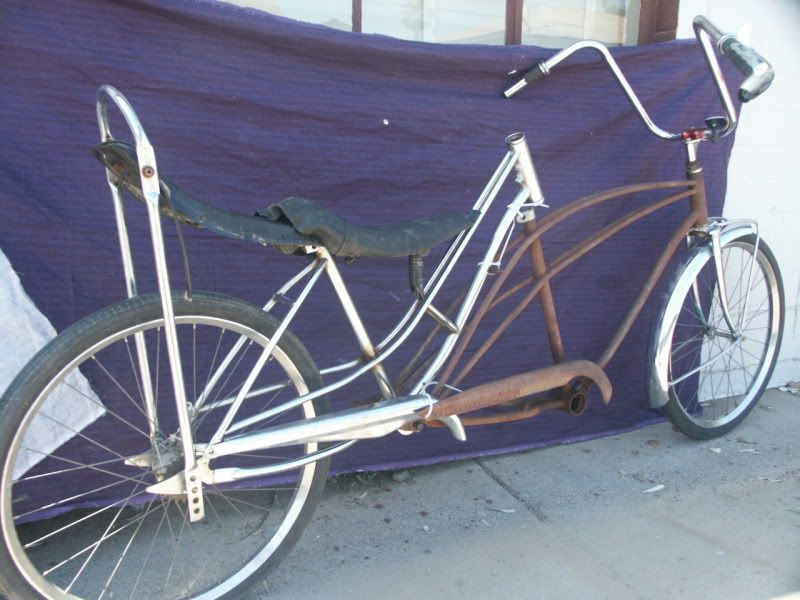 Some other issues I'll have to figure out... combining the two chainguards....
And finally a close up of that bottom bracket attachment...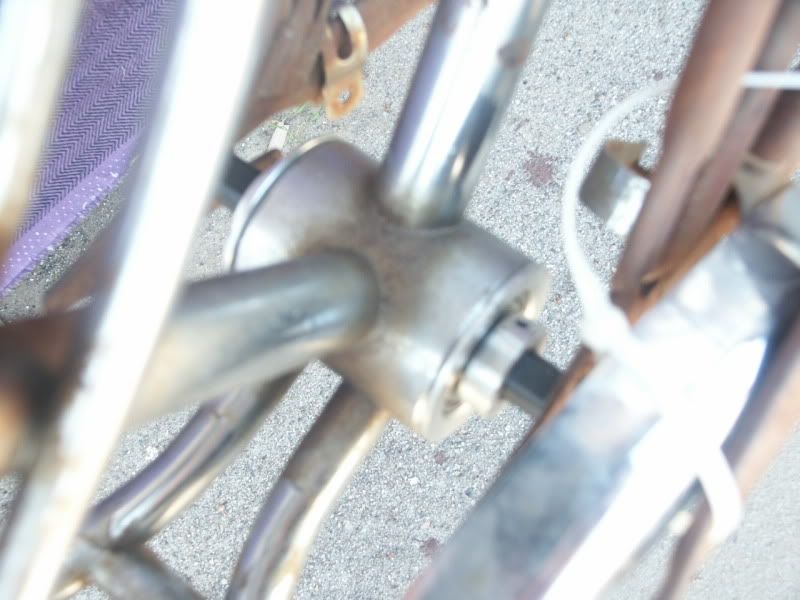 Now I'm going to have to decide where to cut the headtube from the chrome frame and how to attach it... I have ideas of where I want it cut and how I'm going to attach it to the front frame, but I might have chain clearance issues....
I guess I'll figure it out as I go, but I'm back to working and that's where I need to be....
Thanks for looking guys.... any comments would be appreciated....
And I'm Digging a Bunch of other builds out there.... Keep it up guys, and gals ( I think there are a couple this year already... )